Podcast: Download (Duration: 50:48 — 23.3MB)
Guest: Pastor Greg Lundstedt, Equipping the Saints radio program
"Not everyone who says to Me, 'Lord, Lord,' will enter the kingdom of heaven, but he who does the will of My Father who is in heaven will enter. Many will say to Me on that day, 'Lord, Lord, did we not prophesy in Your name, and in Your name cast out demons, and in Your name perform many miracles?' And then I will declare to them, 'I never knew you; depart from Me, you who practice lawlessness.'" (Matthew 7:21-23)
One pastor called the above passage from Jesus' Sermon on the Mount the scariest statement in Scripture.  Imagine the horror of going through life thinking you're a Christian and headed for eternity in heaven, but then standing before Christ on Judgment Day and hearing Him declare, "I never knew you; depart from Me, you who practice lawlessness."
According to this passage, a person can profess Christ as Lord and do amazing works in Christ's name, yet not possess a genuine saving relationship with Him.  So the question is: When we examine own our profession of faith, how can we know if we are truly saved?  Is it a matter of praying the right prayer or doing the right things?
Pastor Greg Lundstedt of Vancouver (WA) Bible Fellowship and Bible teacher of Equipping the Saints radio program will join us this weekend on The Christian Worldview to discuss his own journey from being a professing—but unsaved—Christian to being a true follower of Christ with assurance of salvation.  I hope you will join us for this important discussion.
Guest: Cal Beisner, founder, Cornwall Alliance for the Stewardship of Creation
The earth is the Lord's, and all it contains, the world, and those who dwell in it. Psalm 24:1
Hardly a day goes by when we don't hear something about environmental issues, whether global warming, climate change, recycling, "going green," clean energy, fracking, or the EPA (Environmental Protection Agency).
Why is it that those with a humanistic worldview are the most vocal and active about protecting the environment?  Is "global warming" occurring in the dire manner that we often hear?  Should Christians be more engaged in environmental issues?  What is the most important environmental task facing American Christians today?
Cal Beisner, the founder and national spokesman for the Cornwall Alliance for the Stewardship of Creation, joins us this weekend on The Christian Worldview to answer these and other questions about the environment, including the most important of all—what is God's will for His followers as it relates to His creation?  Plus, you'll have the opportunity to receive our "Creation Bundle" as well.
Podcast: Download (Duration: 50:49 — 23.3MB)
Guests:  Ron Brown, college football coach, speaker, writer
"Conduct yourselves in a manner worthy of the gospel of Christ, so that whether I come and see you or remain absent, I will hear of you that you are standing firm in one spirit, with one mind striving together for the faith of the gospel; in no way alarmed by your opponents." Philippians 1:27-28
As major American institutions—business, politics, education, media, entertainment—increasingly reject anything biblical, Christ-followers in America are beginning to experience some of the marginalization and persecution that our brothers and sisters in the faith have encountered for millennia.
The cost could be the loss of a business or job for holding to the biblical view of sexuality, or perhaps being rejected or overlooked for a position—school board, teacher, scientist—for being "on the wrong side" of issues like evolution and climate change.
Christian students in particular, with plenty of life ahead, have a lot to consider when it comes to living out their faith in the paths they choose.
This weekend will be a special program as 25 high school juniors from Nebraska Christian School will join us in studio to take part in the broadcast.  Our featured guest will be Ron Brown, a college football coach, FCA speaker and writer, and a man who follows and proclaims Christ with his whole heart.
Podcast: Download (Duration: 50:48 — 23.3MB)
Guest: Soeren Kern, geopolitical analyst, Gatestone Institute
"You will be hearing of wars and rumors of wars. See that you are not frightened, for those things must take place, but that is not yet the end" — Jesus (Matthew 24:6).
While the Middle East has always been known for its volatility, the region has been especially on fire recently.  In Iraq, where the United States recently withdrew its military after spending more than ten years and trillions of dollars and lost thousands of lives, an Al Qaeda associated group called ISIS is quickly and brutally taking over the country.
Similar atrocities are taking place in Syria, Africa, and Egypt as Islamic jihadists kill each other and Christians.
Who and what is behind all these conflicts?  How does the Sunni Muslim vs. Shia Muslim divide come into play?  What should the United States be doing?  How will Israel be impacted?  Where is this all going?
Our guest this weekend on The Christian Worldview is Soeren Kern.  Soeren is a Christian, an Air Force veteran, an essayist, a senior fellow at the Gatestone Institute, and a worldwide traveler (he has visited more than 100 countries including most of those in the Middle East).  Be sure to tune in for analysis that you won't hear in the mainstream media.
Podcast: Download (Duration: 50:48 — 23.3MB)
Guest: Dr. Steven Lawson, pastor and author, The Daring Mission of William Tyndale
How sweet are Your words to my taste!  Yes, sweeter than honey to my mouth!  Psalm 119:103
Most American Christians don't consider having a Bible—or multiple Bibles—in their home a notable occurrence.  After all, the Bible is the bestselling book of all time and therefore its ubiquitousness seems rather unremarkable.
That is, until they hear about William Tyndale, a 16th century Englishman who fled his home country and was eventually martyred for translating the Bible from its original languages (Hebrew and Greek) into English.
Tyndale's daring life mission was to get the Bible into the hands of regular people so that could hear from God directly rather than through clergy who read it in a foreign language and interpreted it wrongly.
Dr. Steven Lawson joins us this weekend on The Christian Worldview to tell us about the life of William Tyndale and why his daring mission is so relevant for us today.
Order your copy of Dr. Steven Lawson's book for a donation of any amount to The Christian Worldview.
Podcast: Download (Duration: 50:48 — 23.3MB)
Guests: David and Jason Benham, authors, Whatever the Cost
And they [Christians] overcame him [Satan] because of the blood of the Lamb and because of the word of their testimony, and they did not love their life even when faced with death. Revelation 12:11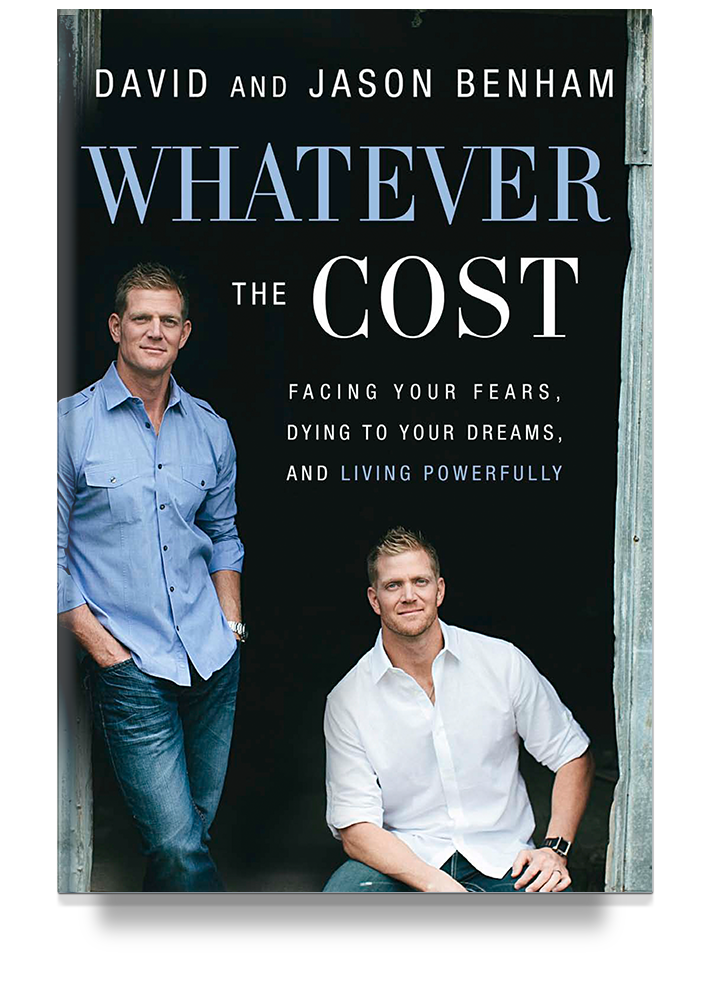 For millennia, there has been a cost to being a Christian, as all manner of persecution and death have come to Christians around the world.  A barbaric, evil example of this recently occurred when Islamists beheaded 21 Coptic Christians on a beach in Libya.
For most of American history, there has been comparatively little cost for being a Christian.  Sure, outspoken Christians are shunned, reviled, and looked over for positions of leadership.  The worst persecution—thus far—has been Christians being sued or losing a business for refusing to provide services for a homosexual "wedding".
Identical twin brothers David and Jason Benham know all about the marginalization of Christians that is becoming increasing common in our country.  Highly successful real estate entrepreneurs, they were contracted to do a real estate reality program on HGTV network when show executives pulled the plug at the last minute over their biblical views.
In light of their new book, David and Jason will join us this weekend on The Christian Worldview to help us understand how we can stand strong … whatever the cost.
Podcast: Download (Duration: 50:31 — 23.1MB)
Guest:  Abner Chou, Biblical Studies Professor, The Master's College
Associate Professor of Biblical Studies, The Master's College
2009 Teacher of the Year, TMC
masters.edu
The words of the Lord are pure words, like silver tried in a furnace of earth, purified seven times. You shall keep them, O Lord, You shall preserve them from this generation forever. Psalm 12:6-7
If we didn't have the Bible—God's revelation to us written in a book—what would be our basis for truth, for knowing right from wrong, for understanding how to think and live in our world?
Or, what if the Bible had errors in it, where statements about people, places, and events were proven false?
The perfect truthfulness of Scripture in every word is one of the great foundations of the Christian faith.  For example, if what the Bible says about Jesus Christ is incorrect, our faith, as the apostle Paul states, is "empty" and "futile".
For the past several years, The Christian Worldview has held an essay contest for students interested in attending The Master's College in California.  The question that students wrestled with this year was: Define and explain the doctrine of biblical inerrancy and the role that it plays in a Christian worldview.
Great question, but perhaps challenging for some of us to clearly articulate.  The good news is the Dr. Abner Chou, professor of Biblical Studies at The Master's College, will join us this weekend—along with the grand prize winner of the essay contest—to discuss the importance of biblical inerrancy.
Podcast: Download (Duration: 50:49 — 23.3MB)
Retain the standard of sound words which you have heard from me, in the faith and love which are in Christ Jesus.  2 Timothy 1:13
There are some big words in Scripture that can seem too long and too hard to understand.  Words such as justification, propitiation, imputation, regeneration, reconciliation, and many others.Sadly, many pastors shy away from teaching these great words of salvation for fear of preaching over the heads of the congregation.  Some modern Bible translations remove the words altogether, considering them out of date and therefore out of relevance for people today.
But is there something we are missing by not being intimately acquainted with the great words of salvation?  What do they actually mean and why are they as relevant today as ever?
Join us this weekend on The Christian Worldview as we investigate the meaning and application of these words.  Because, if we are to believe in the gospel, we must know what it actually is.
Podcast: Download (Duration: 50:49 — 23.3MB)
Guest: Franklin Graham, president, Samaritan's Purse
Therefore, laying aside falsehood, speak truth each one of you with his neighbor…"  Ephesians 4:25
Political correctness is defined as "demonstrating progressive ideals, especially by avoiding vocabulary that is considered offensive, discriminatory, or judgmental, especially concerning race and gender."
In our day and age, there are two additional subjects that political correctness demands nary a discouraging word be spoken: Islam and homosexuality.
Which is surprising considering how Islamic jihadists murder and terrorize all over the world, and how the homosexual movement in America seeks to punish individuals and businesses who take a stand against it.  One would think that speaking up would be the right thing to do.
Franklin Graham, president of the international Christian relief and evangelism organization, Samaritan's Purse, is well aware of the speech boundaries put up by the "PC Police."  He has been lambasted as an "Islamophobe" for speaking out against Duke University's decision (since rescinded) to allow the Muslim Students Association to broadcast their Friday call to prayer over the campus' chapel bell tower.
Franklin will be our guest this weekend on The Christian Worldview.
Podcast: Download (Duration: 50:50 — 23.3MB)
Guest: Bryan Fischer, host, Focal Point
"Righteousness exalts a nation, but sin condemns any people."  Proverbs 14:34
In the opening lines of President Obama's State of the Union address this past Tuesday, he said the following:
"America, for all that we've endured; for all the grit and hard work required to come back; for all the tasks that lie ahead, know this: The shadow of crisis has passed, and the State of the Union is strong." (full transcript here)
But is that true?  Has "the shadow of crisis passed" in our country?  Is the state of our union "strong"?  What exactly defines a strong nation?
This weekend on The Christian Worldview, we will hear sound bites and discuss the content of the President's address and seek to understand from a biblical perspective just how strong our union is and how pleasing this nation is to God.